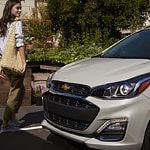 The Chevrolet Spark is a small car that packs a lot of punch. It has an eye-catching design and some very speedy features. If you're looking for an affordable, fuel-efficient car with great performance, the Spark is a good option. In this article, we will discuss the performance specs of the Chevrolet Spark and why it's such a popular choice among drivers.
The Chevrolet Spark has a four-cylinder engine that produces up to 138 horsepower. It also gets great gas mileage, with an EPA-estimated fuel economy of 26 city/30 highway mpg. When it comes to safety, the Spark is equipped with seven airbags and has earned top ratings from both the National Highway Traffic Safety Administration and the Insurance Institute for Highway Safety.
So, if you're in the market for a small car with plenty of pep, the Chevrolet Spark should be at the top of your list. Check out our inventory today and take one for a test drive!