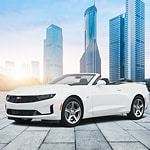 The all-new 2022 Chevrolet Camaro has been unveiled, and it is sure to turn heads! This muscle car is faster and more powerful than ever before, with a host of exciting performance features that are sure to please driving enthusiasts. Some of the highlights of the Camaro's performance include:
-V8 power: The Camaro will be available with a choice of two V8engines. The first is a naturally aspirated LT-series engine that produces 455 horsepower and 455 lb-ft of torque. For even more power, Chevrolet offers an optional supercharged LT-series engine that puts out an impressive 650 horsepower and 650 lb-ft of torque.
-Improved handling: The Camaro has been designed to offer better handling and cornering thanks to a lower center of gravity and improved suspension.
-Lightweight construction: To improve performance, the Camaro's body has been constructed from lightweight materials such as aluminum and carbon fiber.