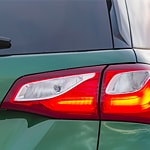 The new Chevrolet Equinox has a unique and capable powertrain. It has a turbocharged four-cylinder engine under the hood. In addition, the latest Chevrolet Equinox has the front-wheel-drive (FWD) as the basic setup. However, the all-wheel-drive (AWD) is optional in some new Chevy Equinox trim levels.
The Chevy Equinox has a 1.5-liter turbo four-cylinder that links to a smooth-shifting six-speed auto transmission. You should expect the duo to generate 170 horsepower at 5600 revolutions per minute. Moreover, the powertrains develop 203 pound-feet of torque within 2000 to 4000 revolutions per minute. The optional AWD provides drivers with better traction than the FWD.
The 1.5-liter turbocharged engine generates substantial power to handle most tasks. It has a maximum towing rate of 1500 pounds. All Chevy Equinox trims have a start and stop system that cuts off power to the engine when it is idle. Such situations include stopping at traffic lights.