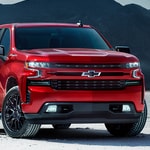 The Chevrolet Silverado 1500 has one outstanding quality; it's incredibly safe to drive. It's bigger than the previous generations and can comfortably tow trailers of up to 13,300 lbs. The best part is that the maximum available weight it carries on its truck bed is 2280lbs, making it ideal for hauling or camping. Visit our team at Toccoa Chevrolet LLC for a personal experience with this truck.
The Chevrolet Silverado 1500 is lighter than the previous generations. Its newest technology ensures the truck doesn't need to be heavy to maneuver through rough roads and steep hills of Toccoa to avoid toppling over. It achieves this performance with an engine that produces 420 horsepower. The six-cylinder design with hypereutectic aluminum pistons provide smooth operations.
With other camera angles, Chevrolet Silverado 1500 makes towing easy since it covers all areas and minimizes the risk of accidents, making it safe to drive. If you decide to purchase it, be assured of its variable capabilities since it's engineered as a full-size truck to tackle any job.