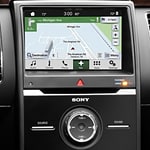 Remember where the car radio used to be in old school vehicles? That prime in-dash real estate is now the home of the infotainment system. What exactly is an infotainment system? Here's a brief overview from the experts on our Toccoa, GA Toccoa Chevrolet team.
The In-Dash Car Radio 2.0
An infotainment system is our generation's high-tech but user-friendly answer to the traditional car radio. Known as an automotive head unit, the infotainment system refers to the in-dash touchscreen hardware and the infotainment software simultaneously. Serving as your vehicle's brain, the system offers simple, manual, or hands-free control of apps, navigation, and in-vehicle convenience features.
OEM or Aftermarket? Take Your Pick
Infotainment systems are now the norm across the entire automotive industry. Even base trims of some makes come equipped with a basic OEM touchscreen and digital interface installed in the center console. Fortunately, there are also aftermarket options you can install yourself or have installed by a licensed professional.