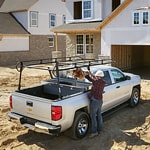 Your vehicle must support your life's work and your life outside of work. At TOCCOA CHEVROLET LLC, we know the importance of finding suitable vehicles for our customers' needs. The Chevrolet Silverado 2500HD offers various cab configurations for different life situations.

A Hard Worker

Many of our customers keep their work separate from their home life and want a dedicated vehicle for work. The 2500HD is a truck that offers a regular cab with a long bed for maximum work capability. Customers who choose this worker favorite enjoy a generous 96.3-inch-long cab without sacrificing any of the spacious interior this line offers.

An All-Purpose Favorite

The 2500HD also comes in more family-friendly varieties. The crew cab option boasts rear seating for family members and friends. Since this option is available with a standard or long cab, Silverado 2500HD drivers can haul it all.